Blues & Roots Festival 2014
Blues & Roots Festival, 14th December 2014, University Malaya
"Everybody has the Blues. Everybody longs for meaning. Everybody needs to love and be loved. Everybody needs to clap hands and be happy. Everybody longs for faith."

– Dr. Martin Luther King, Jr.
Sunday 14th December, 2014, at the Experimental Theatre, University Malaya, a small group of about 150 die hard Blues fans in the country turned up for the first Blues & Roots Festival in Kuala Lumpur. The festival was organized by the KL Jazz Club and Asia World Events (Asia We) in collaboration with University Malaya and supported by the KL International Jazz & Arts Festival.
Despite the show being scheduled to start at 6pm, a group of about twenty came as early as 5pm to see ace guitarist Chris Ong from Singapore.
AZ SAMAD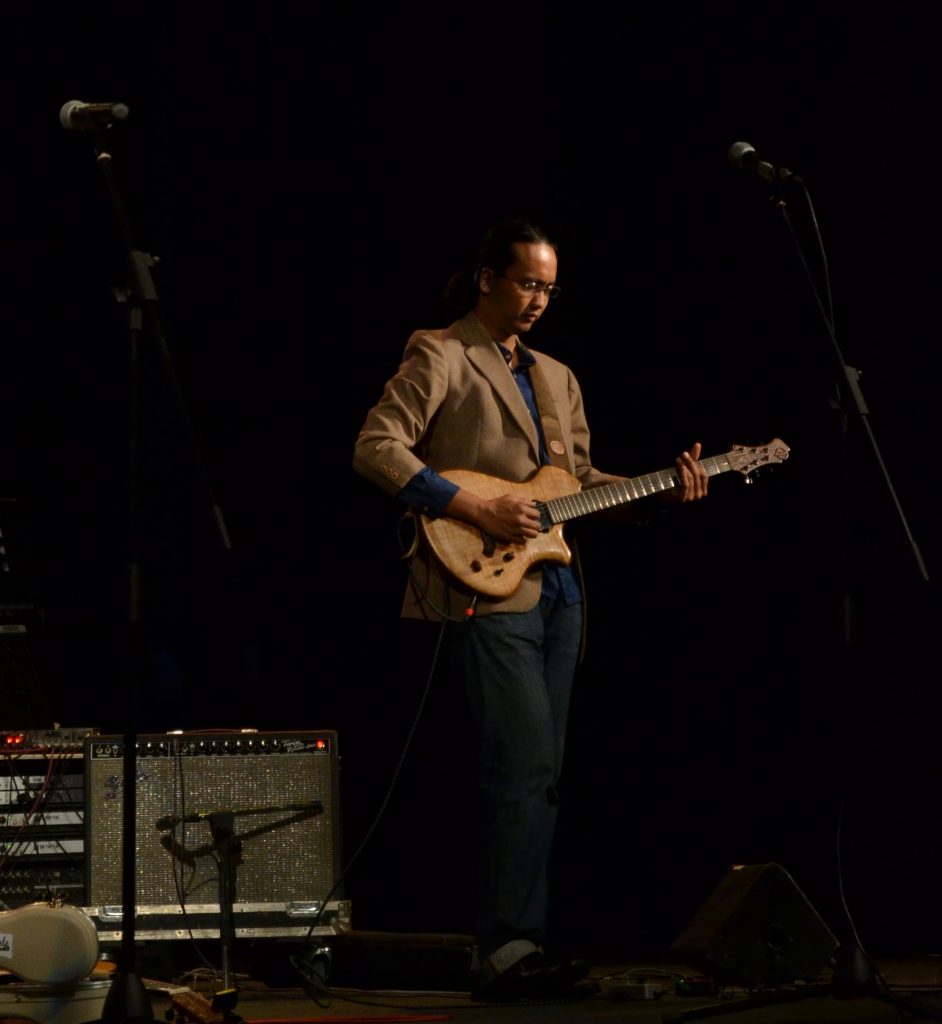 Opening the fest in the evening with a solo performance was guitarist-composer-educator Az Samad. A very hard-working musician with an equally impressive website, Az has recorded with Grammy Winners Flaco Jiménez & Max Baca; graduated & taught at the prestigious Berklee College of Music; performed in the United States, Europe & Asia; and appeared on 21 CDs ranging in styles from Tex-Mex, Contemporary Jazz to solo acoustic guitar. His works have been described as "richly textured, poetic and atmospheric."
Playing an electric guitar, acoustic guitar and a ukulele, the highly versatile guitarist mesmerized the audience with Thelonious Monk's Blue Monk, Angel Eyes, Bangsar Ukulele Blues, and a Horace Silver tune titled Peace. He also dedicated a song to his dad & national laureate A. Samad Said who was present, one that had a mixture of blues and reggae titled "Lagu Royalti Belum Datang," from his new CD Squirrels in Space. It was of course a challenge without a support band, but on a positive note there was no clutter. Simultaneously playing bass lines, chords, melody and intricate solos the sounds were crystal clear. It does justice, when a serious musician is able to confine himself with just himself and his instruments in front of an audience. He closed his set with his blues funk composition Pinata.
The highlight was the weepy salon song Angel Eyes. A 1946 composition by Matt Dennis/Earl Brent, Angel Eyes is seldom performed in this part of the world. Frank Sinatra, Chet Baker, Ella Fitzgerald and many other jazz artistes have performed this tune. It was a classic rendition by Az and reminded me of Lenny Breau's Yesterday by the Beatles.
Az's clearly displayed his ability to perform any style of music and his engagement with the audience was commendable. It is always a challenge to sustain the attention of the audience especially if one is a solo performer. Watching Az perform was like watching Charlie Hunter. Not a show off!
All About Jazz describes his playing as "Technically impressive…utilizing the percussive potential of the guitar to great effect, something in the vein of guitarist Andy McKee."
No doubt!
BLUES MASTERS – PURPLE HAZE
The most hard-working blues band in the Klang Valley, Purple Haze kicked off the night about 8 pm. Theirs was clearly the music of Muddy Waters, Sonny Boy Williamson, Albert King, BB King, Freddie King, Albert Collins etc. On the harmonica/vocals was Alex Terry who had just finished a gig the previous night in Singapore and drove all the way for the sound check at 3 pm with ZZi Blues (guitar/Vocals) who himself finished the previous night about 4.30 am…. Bluesmen! Shaikh Karim on vocals/drums and Jim Madasamy driving the bass.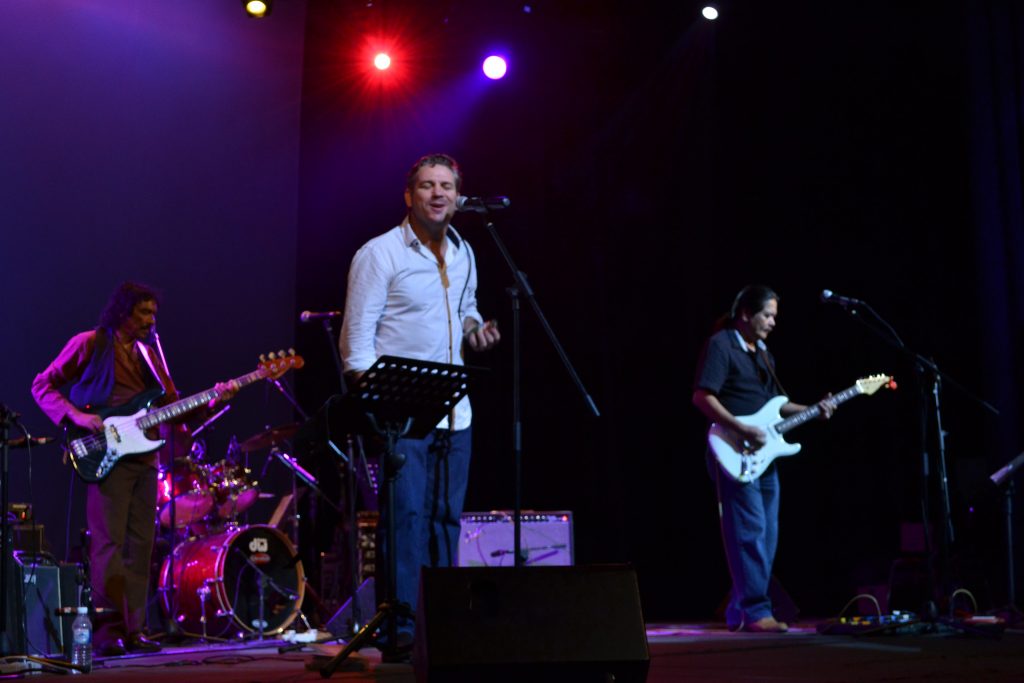 Kicking off with the instrumental Walter's Shuffle, this was authentic Chicago Blues coming from the heart of Kuala Lumpur City. It was just a harmonica, guitar and vocals fortified with the bass and drums. They performed songs of the original Blues Masters such as Muddy Waters's Mannish Boy, Albert 'Iceman' Collin's Cold Cold Feeling, Albert King's Born Under a Bad Sign, Sonny Boy Williams's Help Me, Big Joe William's Baby Please Don't Go and Got My Mojo Working.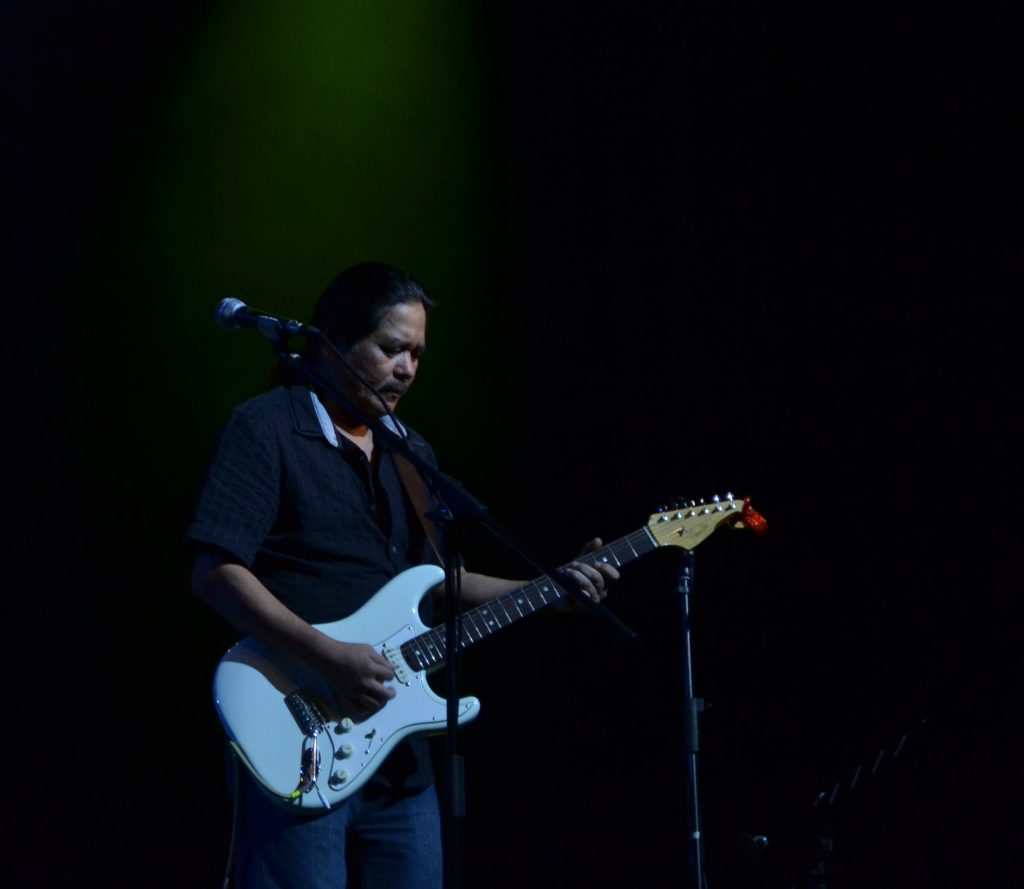 Their playing together for more than 10 years was evident in the tightness and confidence of their performance.
After they finished their first four songs, ZZi Blues picked the first few notes for Cold Cold Feeling and when he sang "I got a cold cold feeling…. it's just like ice around my heart," the small but very personal crowd was thrilled and elated. His wailing guitar and vocals while close to the master, was clearly ZZi's own sound.
They completed their set with Born Under a Bad Sign and the fast-paced country blues style, working off Muddy Waters's Got my Mojo Working. That was classic Shaikh Karim on vocals and drums.
This was a group of masters. Each one of them was a master of his own instrument. Technically sound and seamless playing, they kept the passion of the blues alive. Purple Haze never once overplayed. Everything was just right. If there was an award for the top blues bassist and blues drummer then, Jim and Karim would deserve this. ZZi Blues is a pure blues guitarist, a rarity in town, and Alex Terry on harmonica and vocals was a close resemblance to the great blues masters.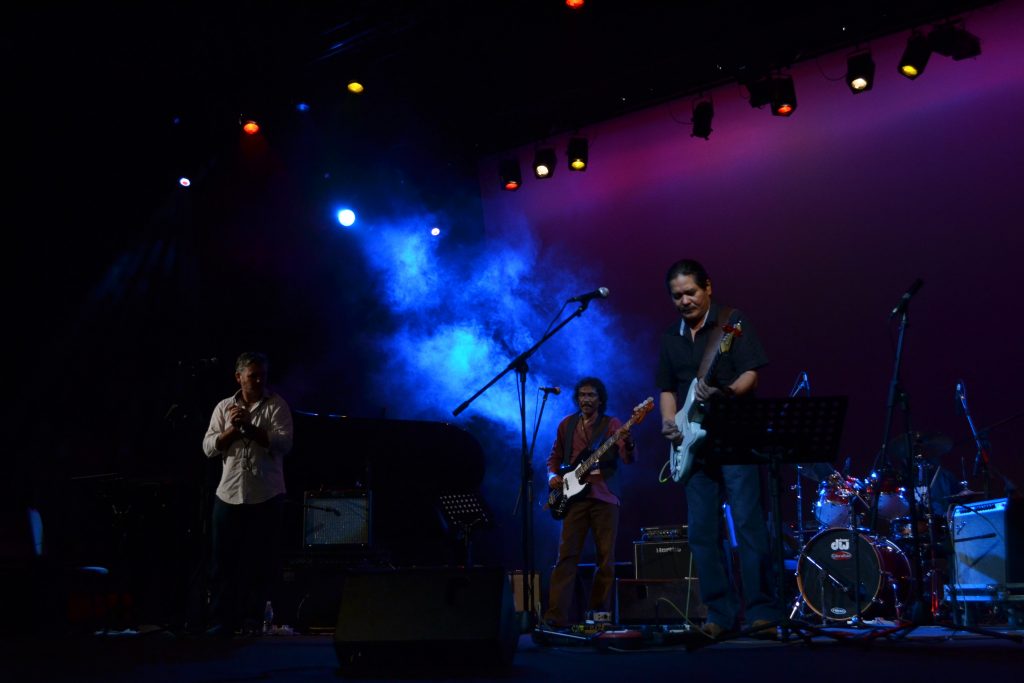 An incredible performance. Among the finest that I have ever witnessed!
FRIENDS & STRANGERS
Two young gentlemen in their teens Shaq (piano/vocals) and Kyle (guitar/vocals) went on stage to perform two classic songs. Pink Floyd's Wish You Were Here and Sting's It's Probably Me. Supported by Deepak Sohanpal on guitar the two Gen Y/Z had their own style, giving a twist to the classics. Though they lacked experience, they made up for it, with their emotionally filled singing and playing. The crowd was really impressed and someone in the audience mentioned that after watching these guys, "There is hope for great music"
JORDAN RIVERS/WHIM JINGJIT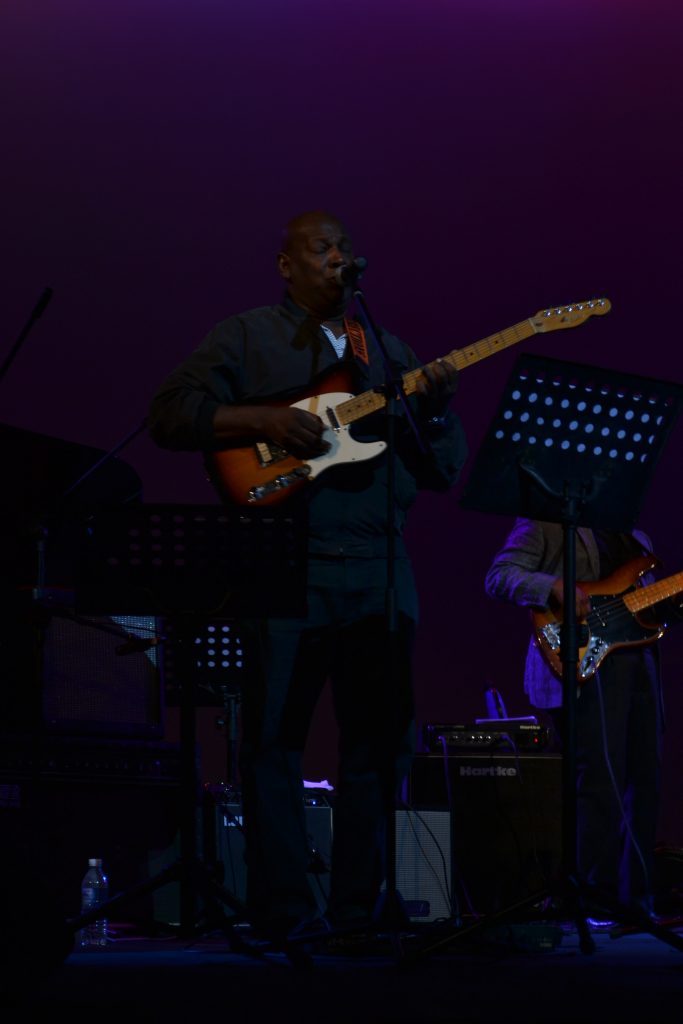 The festival showcased Malaysian guitarist and singer Jordan Rivers combining with Thai guitarist and vocalist Whim Jingjit.
Starting with a Jimi Hendrix inspired Gary Clarke Jr.'s When the Train Pulls In and followed up with Jimmy Reed influenced Bright Lights and Albert King's For The Love of a Woman, it was a fusion of blues and jazz rock especially Jordan's guitar solos.
By the time Whim Jingjit Of The Vintagers (Thailand) played the Lowell Fulson/BB King slow suicidal twelve bar blues and hit the first few notes and sang…. Well now, it's three o'clock in the morning, And I can't even close my eyes, Three o'clock in the morning, And I can't even close my eyes, Can't find my baby, And I can't be satisfied…. it was damn right happening!
They followed up with the fast-paced Elmore James/Sonny Boy Williamson/Allman Brothers One Way Out. Just as the bandwas settling down, they had to close their set with the shuffle based Everyday I got the blues.
A great band that just met Whim from Bangkok a day earlier. With two guitars and two vocalists, this was unlike the normal shows. There was much contrast in the playing and singing style. If Jordan was the versatile guitarist with his deep bluesy voice, Whim was a pure bluesman. Cool and confident, immersed in the Blues!
CHRIS ONG
Chris Ong's playing brought back the sounds reminiscent of early Jimmy Page/Led Zeppelin, Cream, Paul Kossoff and Mick Taylor. The sounds of the super groups. Blues based but hard and overdriven guitar. An epitome of the late 60s and 70s guitar.
Some would recall Chris as the guitarist for Singapore band Heritage with the Jansen Brothers. Displaying the cool look and slick Jimmy Page style showmanship, Chris Ong and the Heritage used to pack Cee Jays at Lorong P Ramlee in the 80s. His playing then was electrifying, tuned to the sounds of Led Zeppelin, Hendrix, Allman Brothers, Stevie Ray Vaughan and the likes.
Much older now, but still retaining the cool look with lean jeans and leather jacket, Chris Ong is one of the few guitarists who has the ability to combine the blues with hard rock, producing a heavy high-octane sound. A sound now distinctively Chris Ong!
The band only played four songs but with extended long improvised solos by Deepak Sohanpal (guitar), Patrick Terbrack (tenor sax), Dodong (piano/keys) and Chris Ong (guitar), Jason Siri on vocals and Steve Nanda on Drums. Heavy sounds with a very high level of creative improvisation.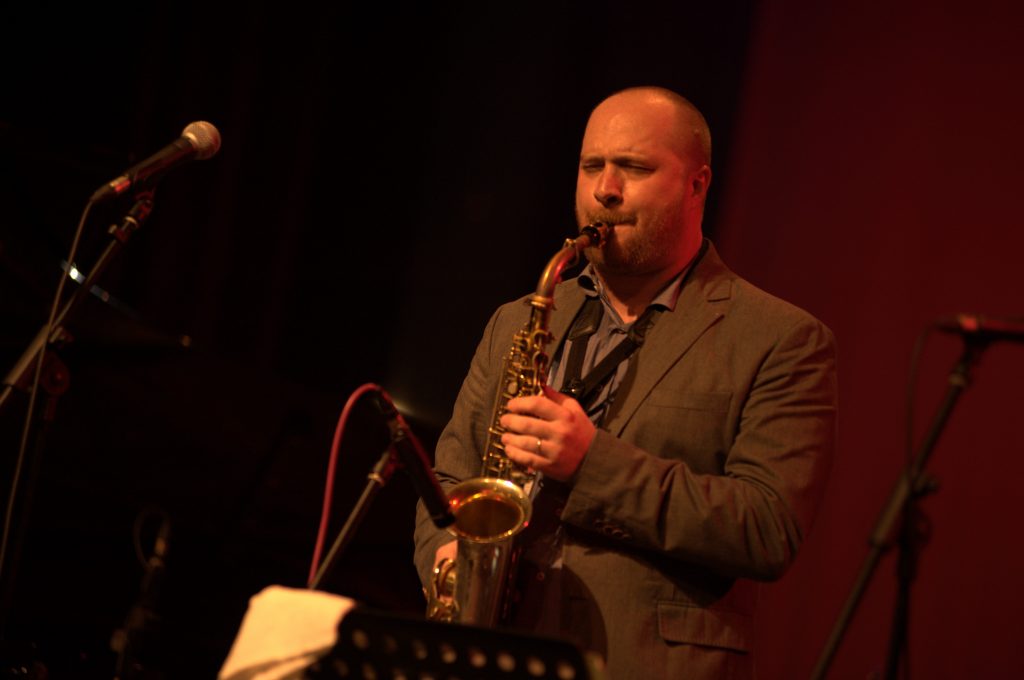 They started with the riff-based Politician, a tribute to the late Jack Bruce and Cream, then Buddy Guy's Country Man. This was slowed down with Groaning the Blues and the last number was that of Led Zeppelin's, How Many More Times. Varying the tempos for this 13-minute shuffle jam, it was a daring attempt.
BLUES GANG
Five seasoned musicians, with a telepathic link. The Blues Gang, the iconic Blues Band that broke away from the tradition of performing western blues to play Malaysian style blues is a phenomenon.
I first saw them in November 1976 at the Stadium Negara at the KL's Rock and Blues Festival. This was just after the banned controversial Cheras Woodstock Concert in 1973.
In front of a crowd of close to 8,000, the artiste line up was very impressive. There was Discovery, Movement, Carefree and Crimson from Australia. What impressed me most that evening however, was the unknown Blues Gang with Shaikh Karim on Drums and vocals. There were not many drummers who could keep time and sing hard. Peter Rivera of Rare Earth and Phill Collins are a few. The other is Shaikh Karim of the Blues Gang! They played the blues and blew everyone and everything around.
By the time I saw them next in April 1979 at Stadium Merdeka, they had already recorded their first album, Anytime Anyday.
It was a hot afternoon when the concert started. Ramband from Hongkong kicked off belting the Led Zeppelin, Rock and Roll. Heritage from Singapore performed among others the popular Doobie Brothers Long Train Running and by the time the Blues Gang came on to close the concert, it was just the perfect setting with the sun going down and when they hit the first few notes, it was sealed. The greatest blues act from Malaysia!
That was thirty years ago. But tonight, was different. For the first time in their more than 40 years career, and for keeping the spirit of the blues music alive in Malaysia – the real life dramas of life itself, the Blues Gang was finally being recognized as an Iconic Blues Band with their own brand of Blues.
The blues has always been the Blues. Rooted in West African culture but really shaped by the American traditions of folk. The Blues Gang however, contributed to the world what is now strictly and distinctly identified as "Malaysian Blues".
Ito Mohd (vocals/harmonica), Julian Mokhtar (lead guitar), Ghani Dato' Abul Talib (piano/keyboards), Shaikh Karim (drums) and Jim Madasamy (bass) were all ready to go on stage. Each one of them had their own charisma and identity. Collectively, they are the Blues Gang.
For their contribution to the Blues music in Malaysia, they were awarded the "Brand Laureate Country Branding" by The Brand Laureate Asia Pacific Foundation.
On stage with them to present the award was Dr. KK Johan, President and Ms. Chew Bee Peng, Chief Executive Officer of the Asia Pacific Brand Foundation (APBF) respectively, Dr. Cheong Ku Wing, Deputy Director, Cultural Centre, University Malaya and Ms. Maizon Omar, Chairperson of the KL International Jazz Festival and the KL Jazz Club.
The Blues Gang now join the other previous recipients of this award. International jazz musicians, who had performed at the KL International Jazz Festival since 2012. The likes of NEA Jazz Master from New York, Ahmad Jamal, Lee Ritenour, John Beasley, Rudresh Mahanthappa, Keiko Matsui, Incognito, Everette Harp, Indra Lesmana, Ernie Watts, Hiromi, Steve Smith, Anthony Jackson, Steve Thornton, Meg Okura and others.
And tonight, it was the Blues Gang's night.
Starting out with an intro of an instrumental slow blues, they performed their top hits Malaya Blues, Katakan, Mak Siti, Khatulistiwa, Mama saya mahu Kahwin and the Otis Rush/John Mayall classic All Your Love and of course the classic Apo Nak Di Kato.
Like the performance of the Rolling Stones, one cannot describe the music and performance of the Blues Gang. You've got to see them live to experience their music. Cool, dynamic and synchronized.
The evening proved to be an unforgettable and incredible journey of the various blues musical styles. Traditional Blues, Chicago Blues, Progressive Blues, Contemporary Blues, etc. It was a tribute and homage to the great blues masters. Muddy Waters, Buddy Guy, BB King, Otis Rush, Elmore James, Sonny Boy Williamson, Peter Green, Cream, Jimmy Reed, Willie Dixon, Led Zeppelin and many others.
On a night of supreme musical performance, there were no winners or losers. Each musician stood out with an authoritative voice for the Blues. There was no fanfare. It was not supposed to be. The blues after all, is the story of everyday life!
This certainly is the revival of Blues and Roots in Malaysia. Thanks very much to the lovely audience; University Malaya (Prof. Dr. Nasir Hashim and his team of Dr. Cheong, Ms. Azzura, Simon and Fadzli) and the production team at the KL Jazz Club, Shaq and Kyle.
RODIN JS KUMAR
DECEMBER 2014